McLaren F1 2011
Real-time F1 car statistics and comments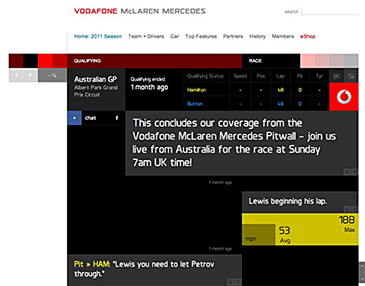 Technologies: Zend Framework, Javascript, NGiNX_HTTP_Push_Module
Role: Lead Developer
Client: McLaren
Company: Pirata
Website for McLaren Formula 1 team: during a Grand Prix the dashboard displays live car telemetry and realtime comments from the team.
Evolution of the 2010 site with two goals; to make the data shown on the site more understandable to casual race fans and increase interaction with social media channels.
I led the development team and did backend development on this project.