McLaren F1 2012
Real-time F1 car statistics and comments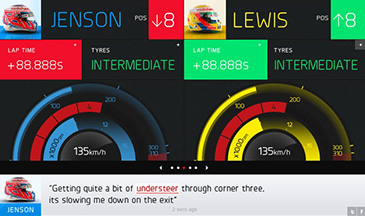 Technologies: Raphaël JS, Backbone, Zend Framework
Role: Technical Lead
Client: McLaren
Company: Pirata
Website for McLaren Formula 1 team: during a Grand Prix the dashboard displays live car telemetry and realtime comments from the team.
The next evolution of the website for the 2012 season. The goal was to achieve a more interactive Grand Prix experience for the user. Automation of previously manual systems due to new information available from the McLaren data feed.
A complex build as many different parts of the site were being worked on simultaneously. I oversaw the development, setting milestones and getting the team up and running with the test rig used to simulate races.